Question: ANSWER ALL QUESTIONS IN SECTION A SECTION (1A): Answer all questions in this section. (Your response must not exceed 500 words) As a student in the Principles of Management class of Ama Ghana University, you are expected to have experiential knowledge so that you can be able to solve real life business problems after graduation. To achieve this objective, the 2020 class has been divided into ten groups, and each team works in a management capacity with ten management consulting companies in the Greater Accra Region. San Consulting – the firm that your group works with is a project management company that is into Real Estate construction and management consulting. This firm which has twenty years' experience in this business is the first choice for all individuals and companies that want quality service. You have on the contrary, observed that many of the management practices have not developed precipitously as situations in the business environment warrant. The accountant confirmed this by saying in the last general meeting that a certain percentage of San's profit margin is being lost because of this situation. She gave the example that the surveying department spent cight labor hours generating data that had been generated two weeks ago by another unit. Due to the fact that the surveying department did not know that the data had already been created, a substantial effort was wasted and this has been a recurrent problem. In addition, the increase in demand of the services of San's Consulting has placed significant pressures on the five managers whose duties are not clearly defined. For instance, you have observed that any of these managers perform duties in the operations department as well as any other unit within the firm. They are not able to perform all the functions required of them due to the ineffectiveness of the organizational structure. You and the members of your group are expected to write a report to the top-level management team regarding your analysis of the situation in the firm. Questions 1. Explain which of the four main management functions is/are not operating as it/they should within the firm? 3 Marks 2. What recommendations will you make in your report that will help assure that this situation or similar one would not happen again? 4 Marks 3. Assume that the top-level management team has accepted your recommendations, how can their effectiveness be evaluated three months after implementation? 4 Marks 4. Discuss the organizational structure currently used by San's Consulting and would you recommend the continuous use of this structure? If yes or no, present the factors (4) that influenced your decision regarding the right organizational structure for San's Consulting. 5 Marks 5. Identify and discuss the main problems that the firm is likely to experience (i) if the current structure is continued or (ii) if a new structure is implemented. 5 Marks 1B) Akwamba made this statement organisations cannot be successful if managers fail to pay attention to the forces in the external environment". Do you agree or not? Justify using practical examples (9 marks)–Free Chegg Question Answer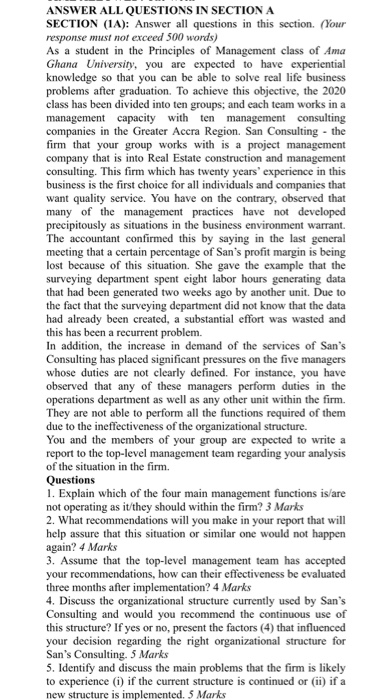 Transcribed text From Image: ANSWER ALL QUESTIONS IN SECTION A SECTION (1A): Answer all questions in this section. (Your response must not exceed 500 words) As a student in the Principles of Management class of Ama Ghana University, you are expected to have experiential knowledge so that you can be able to solve real life business problems after graduation. To achieve this objective, the 2020 class has been divided into ten groups, and each team works in a management capacity with ten management consulting companies in the Greater Accra Region. San Consulting - the firm that your group works with is a project management company that is into Real Estate construction and management consulting. This firm which has twenty years' experience in this business is the first choice for all individuals and companies that want quality service. You have on the contrary, observed that many of the management practices have not developed precipitously as situations in the business environment warrant. The accountant confirmed this by saying in the last general meeting that a certain percentage of San's profit margin is being lost because of this situation. She gave the example that the surveying department spent cight labor hours generating data that had been generated two weeks ago by another unit. Due to the fact that the surveying department did not know that the data had already been created, a substantial effort was wasted and this has been a recurrent problem. In addition, the increase in demand of the services of San's Consulting has placed significant pressures on the five managers whose duties are not clearly defined. For instance, you have observed that any of these managers perform duties in the operations department as well as any other unit within the firm. They are not able to perform all the functions required of them due to the ineffectiveness of the organizational structure. You and the members of your group are expected to write a report to the top-level management team regarding your analysis of the situation in the firm. Questions 1. Explain which of the four main management functions is/are not operating as it/they should within the firm? 3 Marks 2. What recommendations will you make in your report that will help assure that this situation or similar one would not happen again? 4 Marks 3. Assume that the top-level management team has accepted your recommendations, how can their effectiveness be evaluated three months after implementation? 4 Marks 4. Discuss the organizational structure currently used by San's Consulting and would you recommend the continuous use of this structure? If yes or no, present the factors (4) that influenced your decision regarding the right organizational structure for San's Consulting. 5 Marks 5. Identify and discuss the main problems that the firm is likely to experience (i) if the current structure is continued or (ii) if a new structure is implemented. 5 Marks
1B) Akwamba made this statement organisations cannot be successful if managers fail to pay attention to the forces in the external environment". Do you agree or not? Justify using practical examples (9 marks)
Expert Chegg Question Answer:
Answer
***ANSWERING FOUR AS PER CHEGG GUIDELINES**
1.According to the report, some management functions do not work well, resulting in repeated business problems. Those are the following:
Planning that is definitely missing and can be easily identified is one of the key aspects of management. Because there is a lot of rework going on and too often.
The teams are not coordinated and their tasks and duties are not understood. There is a lack of coordination between the team, which results in germination of the rework criteria.
With more work, the managers always work with more work and therefore an important management component is missing, i.e. leadership.
There is no proper organizational framework, it produces a working mix, and there is also no centralized repository where teams are able to update their work. When this server or resource for project management is given, these rework cases can be easily managed.
2. For every team to have a centralized repository that updates. This will undoubtedly raise the question of rework.I have a well defined organizational structure, in which each team and individual knows their positions and is highly valued for responsibility. Because each team works for a single goal, the team definition is highly preferred. This team definition.There is a very effective concept of certain daily stand-up meetings. I would like to implement such an initiative to remind every team about its roles and activities.
3. The effectiveness of a repository application or some project management software can be calculated easily because it can easily track defects or reprocess. There are thus less opportunities for failure as a team leader working with other departments clearly defines the organizational structure.
4. Yes, because issues related to the way the company works are already highlighted, I feel that there are some issues with the organizational structure of the present company. I shall therefore try to restructure it to boost the company, and it would also be very useful for a team approach. The explanations for this are clear-A team must know its obligations to succeed in a certain amount of time.The functions and obligations of individuals, management and teams must be informed. An organizational efficient, clearly established task structure is a good practice.The conversations at stand-up are what the team has worked to date and what they would find to be focused on today and tomorrow. This operation upgrades them and reduces rework and correction incentives.More frequently, managers need to work together to recognise any pause in their work and the company's success and better policy management.
---
---